The Kiwami ("zenith") platter is a special 10-piece serving of the finest sushi, offered by participating establishments in Niigata. The platter includes local seasonal offerings unavailable anywhere else, together with uni (sea urchin roe), toro (medium-fat tuna), and ikura (salmon roe). The content varies according to the season and sea conditions, but you can always be sure you will be eating the best fish of the day.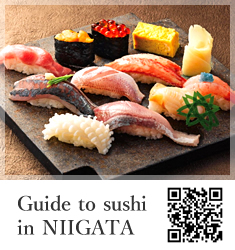 Inquiry about absorption in Niigata sushi
Niigata sushi quotient life hygiene trade association
TEL.+81-25-246-3020 FAX.+81-25-246-3030 Copyright (c) 2008 Niigata_Kiwami. All rights reserved.